Buy Unisex 100% Cotton Bathrobes Set Of 1
Experience ultimate comfort and ease with Kritarth Handicrafts 100% Cotton Unisex Bathrobe. Made from 380 GSM and 100% cotton, the robe is extra soft, snug, and durable with strong fibers. The terry towel cotton material on both sides not only makes this bathrobe water-absorbent but also gives it a luxurious appeal. With its full-length design, it covers the knees, and the shawl collar amps up the coziness. The adjustable belt allows you to wrap the bathrobe around your body tightly and it can be removed when not required. This bathrobe is equipped with two front pockets that let you keep your mobile, wallet, keys, and other essentials. It is ideal for everyday use and can be washed conveniently in a machine.
Superior Quality Cotton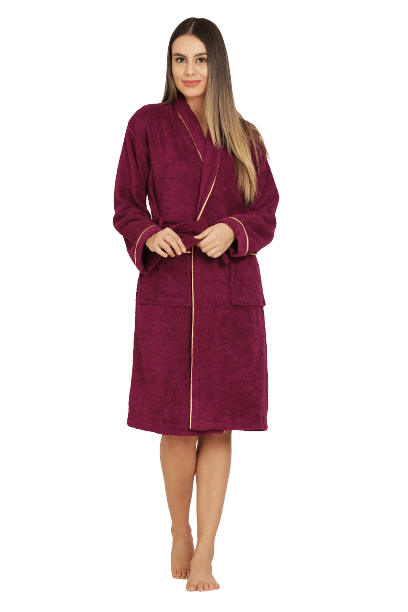 Made from 380 GSM, 100% cotton, this bathrobe with strong fibers is soft, comfortable, and long-lasting. The inner and outer terrycloth fabric absorbs moisture and keeps you warm after a bath.
Full-length Design
With a length of 107 cm and chest width of 56 cm, the bathrobe can be comfortably worn at home, by the swimming pool, beach, or at the spa without the fear of exposure. This medium-sized robe is suitable for people with a height of up to 5' 5''.
Comfortable and Relaxing
You can wrap it around as lounge-wear in your leisure time at home or carry it to dry yourself after you hit the swimming pool or beach. Furthermore, this stylish robe can also be worn at a spa.