How to choose the best bedsheets
How to choose the best bedsheets
We are often confused while choosing bedsheets online. Here I am trying to give full detail on what should you consider while choosing bed sheets online in India. There are various factors responsible while choosing bedsheets and I am trying to explore every step before buying bedsheets.
1. Read the fiber content.: It is the first thing you should look into this. With which material bedsheet is made. In India cotton is the best material which is affordable and soft for your body. Besides it, in India, polycotton bedsheets are also considered budget-friendly bedsheets.
2. Thread Count: We often analyze that people get confused about thread count in bedsheets. Let me clear you thread count definitely has an effect on bedsheets but only for cotton bedsheets not for all types of fabric bedsheets. Thread count between 150 to 500 is considered as best bedsheets as per thread count increase.
3. Color Quality: This is the option that is generally ignored by the buyer but it is an important option while buying bedsheets. Some brand gives guaranty for their colorfastness that their sheet will be fade in 100,200 or 300 washes and so on. Always consider about color quality of the bedsheet. Otherwise, your sheet can be fade in the first or second wash, and your precious money covert into a loss.
4. Thickness: Now it's turn to know the thickness of the bedsheet. Always choose bed sheets that are not too thick or not too thin as well.
5, Maintenance: This is also a requirement that should be considered while choosing bed sheets. Some bedsheets give a premium look to our bedroom but due to the nature of the fabric, they can not be washed in machine or by hand as well. For that kind of bedsheets, you have to dry-clean them which increases the burden of the extra penny in your pocket. Which is definitely what you did not like.
After discussing all the important parameters of choosing bedsheets there are some myths also which should be clear to you. It will definitely help you make your decision more easily.
Myth: Thread count is considered in every type of fabric bedsheet.
Fact: Actually thread count is only considered in pure cotton bed sheets. In another type of fabric bedsheet, thread count is not measured.
Myth: We should always choose a thread count above 200.
Fact: In real-life data, mostly pure cotton bed sheets come in the range of 150-200 Thread Count. Thread count above 200 will cost you around ₹2000.
Myth: Polycotton bedsheets are not suitable for skin.
Fact: In real polycotton is more soft compared with cotton sheets.
Myth: Cotton bed sheets are the best sheets
Fact: It is not applied to every cotton bedsheet. Polycotton is also a good material. It is more soft, long-lasting, and anti-torn as compared to cotton bedsheets.
These are some important myths and facts which should be kept in mind while buying the best bed sheets.
Here I want to give you a brief on thread count and the difference between cotton and polycotton bedsheets. So that it encourages you to choose bedsheets in the correct way.
What is Thread Count?
There is a myth in our mind that a higher thread count means the best bedsheet. It is said to determine the quality and durability of a bedsheet always consider thread counts in mind. It is true but this is not a complete truth. First of all, we should know what is thread count and how it is matters while choosing bed sheets. As we know thread counts refer to the number of horizontal and vertical threads per square inch. A higher number of threads count means the softer the sheet. However, it doesn't necessarily mean a fabric feels luxuriously soft and ultra-smooth other variables also play an important role. Such as fiber quality, yarn size, weave, and finish.
Fiber quality is important for your bedding's softness, weight, and durability. Find long stable cotton yarns for softer, smoother, and stronger sheets. The yarn is basically of two types, Single Ply Yarn and another one is double-ply yarn. Individual fiber twisted into one-ply yarn and multiply two or more yarn twisted together.
Thread count range up to 1200, however, to reach a thread count of more than 400 multiple yarns or additional yarns inserted into the weaving process known as multiple insertions are used this adds to the bedding strength and durability. depending on the weight of fibers. This can result in a heavier and less supple fabric. So higher thread counts alone may not give you the feel you are looking for. However, a thread count below 180 does not consider a perfect bedsheet.
Difference Between Polycotton And Cotton Bedsheets
What is polycotton?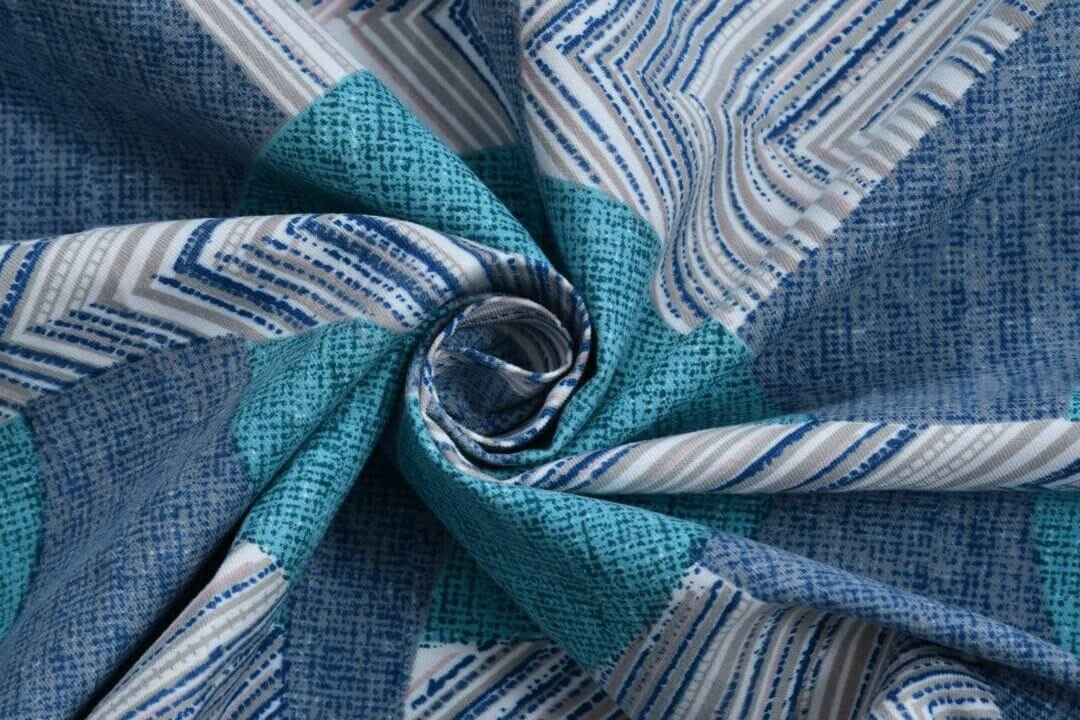 So basically polyester is a man-made material. It is made of chemicals and some other man-made substances. The polyester was first patented in 1941, by a group of British chemists. It soon became very popular, mostly because of its resistance to wrinkles Polycotton is a mixture of both cotton and polyester which makes it blended or polycotton fabric.
What is cotton?
Cotton is the opposite of polyester and it is a natural fabric. It is planted in the fields by farmers. In 1793 a man named Eli Whitney invented the machine which separates seeds from cotton fiber which given a new direction to cotton.
In the very short description of fabrics, I believe your one doubt is clear about cotton and polycotton fabric.
Now let me introduce you to the pros and cons of cotton and polycotton fabric.
Pros Of Polycotton Fabric
It is a very strong and durable material
It has great abrasion resistance.
It retains its shape easily. Unlike cotton, it will not shrink, stretch or wrinkle.
It dries very quickly making it ideal for outerwear.
Polyester fiber takes dyes (colors) easily.
It retains its shape well.
It is highly stain resistant making it very easy to clean
Cheaper than any other material
Cons of Polycotton Fabric
Not much breathable as compared to cotton.
Havier then cotton
Resistant to virtually anything except oil stains
Pros of Cotton Fabric
Hypoallergenic
Less toxic
Comfortable
Breathable
Natural Fiber
Cons of Cotton Fabric
Expensive
Shrinkable
Holds moisture longe
Natural fibers wear down faster.
Now I believe that your most of doubts should be clear now as you know the pros and cons of cotton and polycotton fabric.
Cotton Vs Polycotton Bedding
No one can decide or suggest which bedsheet you choose. except you. Because it wholly depends on you. You know your skin type, your long time duration, your budget, and so on. Here is a brief advantage of Cotton Vs Polycotton Bedding.
Easy to wash and dry
Cheaper than cotton bedsheets
Lightweight
Not shrinkable and anti-wrinkle
Long-run
Soft feel fabric
Natural fabric
Get softer with the age of bedsheets
Cool & Breathable idle for sweating bedding
Hypoallergenic
Non-allergic fabric good for soft skins
Now you know the features of cotton bedsheets and polycotton bedsheets as well. But if you are still confused about which bedsheet you should choose then here is a simple solution for you.
Conclusion for cotton and polycotton bedsheets
If you have a low budget and want long-run bedsheets then go for polycotton bedding because polycotton is a mixture of polyester and cotton which fulfill your budget requirement and your needs as well.
And if you live in an extra hot atmosphere or having babies in your home then go for cotton bedsheets because of their soft fabric nature. Just because babies have very soft skin and can be infected with infections earlier than adults so cotton bedsheets fulfill that requirement.
I hope you are now clear about cotton and polycotton bedsheets.
Now let me help you clear your doubts about the best summer sheers and winter sheets as well.
Best Summer Bedsheets
Summer refers to hot days and these days we required bedsheets that give comfort to our bodies. After a long study and observation Cotton came in the first place. Ask why?
Here are detailed views of how cotton is the best material for summer.
It is approved by science that cotton is great absorbable material ever. Cotton is most absorbable, soft, lightweight, and breathable. It soaks up sweat, allowing heat to escape the body and for you to stay cool.
Benefits of Cotton
Pic credit: aboutorganiccotton.org
Health & Wellness
At the time of the pandemic, health is the most important factor in our life. There are many factors available on how cotton is best for your health and wellness. Some of them given below.
Cotton is Antiallergenic
People with sensitive skin often must be very careful about what kind of clothes they wear, and they almost always turn to cotton. It's Antiallergenic.
Cotton Can Help You Sleep
sleeping is the most important factor for your health if you are uncomfortable to sleep it ruined your all day so it is important you take a comfortable nap. Here cotton helps you the most. According to studies, Cotton keeps you cool during the night, making sure your precious sleep isn't disrupted by overheating.
Moisture Control
Cotton fabric is breathable and transmits moisture away from the body and is absorbent and removes liquid from the skin, like a towel, according to Cotton Incorporated. Cotton allows you to remain comfortable as you exercise, keeping moisture from building up between your skin and clothing. The International Forum for Cotton Promotion states that cotton can take up to one-fifth of its weight in water before feeling damp.
Bacteria & Virus Free
Cotton sheets are made up of natural fibers which protect you from any eternal infection or viruses. So that cotton is also used in the medical industry as well.
Environment Friendly
Since cotton is a natural fiber. It is breathable, soft, Biodegradable, wicks away sweat. organic cotton produces 94% less greenhouse gas emissions. In addition, cotton grown organically reduces soil erosion and creates healthy soil.
Comfortable
To many, cotton means ultimate breathability. Surprisingly, it can absorb up to one-fifth of its weight in water before it actually feels damp. To stay as cool as possible (and therefore comfortable) try sleeping on cotton sheets and wearing cotton pajamas. Cotton absorbs moisture from your body, which evaporates, allowing your body to breathe as it should do naturally.
No washing Problem
Cotton is easier to wash and care for than other fabrics, adding to the list of reasons we love it. To make it even better, cotton doesn't retain odors like oil-based fabrics, so don't stress if you forget to wash your favorite sheet. This also means a mattress with cotton and cotton bedding will keep your bedroom fresher longer. So let your washing machine do your dirty work and enjoy the money you'll save on dry cleaning.
Best Winter Bedsheets
You must be thinking about which one is the perfect bedsheet for this winter season. Correct? Let me solve your problem. The new name of winter bedding is Fleece Bedsheets. These bedsheets are warm as well as so cozy feeling you will be a fan of this bedding. Now a new question arises in your mind what is fleece bedsheets? RIght na? Let me solve your all query in just a few minutes.
What is Fleece material?
Basically, fleece is a man-made fiber by adding some chemicals to wool just like polyester fabric. The chemicals are heated until they form a thick syrup, which then hardens and is spun to form threads. Because of the structure of the fibers, fleece is extremely warm and breathable and allows air to flow through it easily.
Feature Of Fleece Bedsheets
A lightweight, warm, and soft fabric that gives you comfort during winter nights.

Easy to wash & dry.

It is moisture resistant making it ideal for extreme weather conditions.

Came in large queen size

Easy to store

The long-life product can be used up to years
How to take care of fleece bedsheets?
Because of its lightweight feature, it is very easy to take care of these sheets as compared to other winter bedding. Here are some steps or instructions which you should keep in mind while washing fleece bedsheets.
Check for stains :
Before washing in deep water it is best practice to check stains on bedsheets if any. In case of stains just put a drop of detergent powder or liquid on the stain and allow the detergent to soak the stain for 10-15 minutes. Do not rub the stain because you may spread it or deeper press into the fabric.
Start your washing process :
Place bedsheets into the washing machine and select a gentle cycle option given on the washer button. It is best practice to wash fleece bedsheets alone. Stronger washing cycles may cause the fleece to form knots. Use only warm, not hot, water on the fleece. Add laundry detergent to the washing machine, but do not use a laundry detergent that contains bleach. It's also a good idea to avoid fabric softeners when washing fleece because they can damage the water-repellent finish.
Dry
Now its turns to dry up your fleece sheets. Do not dry sheets in direct sunlight it can affect fleece color. advisable to dry sheets in shade, not in sunlight. Because of its lightweight feature, it will be dry up in a few minutes.
Store
If you are storing your fleece bedsheet after washing so fold it neatly and placed a scented dryer sheet into the last fold. It will keep the bedsheet fresh while it is stored in your linen consent.