Gudi Padwa: Celebration Of New Year
Gudi Padwa will be celebrated on 6th April 2019. Gudi Padwa Celebrated in different states with different names such as in Maharashtra it is celebrated as Gudi Padwa, in South India, it is known as Ugadi in Telugu and Yugadi in Kannada. It is the first holy festival which marks the beginning of the new year, a new month and a new day for the Hindus falls on Chaitra Shukla pratipada. This festival comes in the spring season and beginning of the new year. The day is celebrated with an auspicious bath, followed by decorating the doorway with a 'toran', performing ritualistic worship and hoisting the Dhwaja or Gudhi.
Why Gudi Padwa Is Celebrated?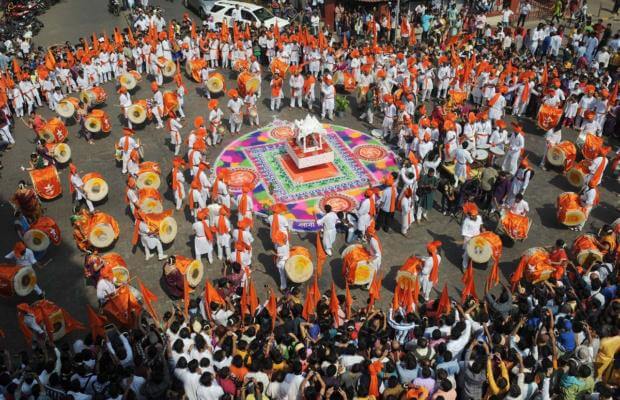 There are many mythologies why Gudi padwa is celebrated Some stories said on this day Bhama Created universe so this is celebrated as Hindu new year. It is also said Ayodhya welcomes Lord Rama on his return after he destroyed the evil forces of Ravna. So this day also celebrated as Victory of good over evil. Gudhi is believed to invite prosperity and good luck into the host's house. According to Anne Feldhaus, in rural Maharashtra, the festival is linked to Shiva's dance and coming together of the community as they carry the Gudhi Kavads together to a Shiva temple. Maharashtra's Great Warrior, Chhatrapati Shivaji Maharaj, was the person who started the Gudi Padwa celebrations after his victory. The tradition of raising the Gudi was initiated by Shivaji and from then on has been followed by every Marathi household to welcome the New Year.
How Gudi Padwa Celebrate?
On the festival day, courtyards in village houses will be swept clean and plastered with fresh cow dung. Even in the city, people take time out to do some spring cleaning Women and children design rangoli on their doorsteps. Traditionally, families prepare a special dish that mixes many flavors particularly the bitter leaves of the neem tree and sweet jaggery (Gur, gul). The people of Maharashtra mark a new, auspicious beginning of the year by hoisting "Gudi" on the right-hand corner of their house. This Gudi is an upturned metal vessel on a long wooden stick. The stick is decorated with yellow colored cloth and mango leaves. Garlands of colorful flowers and neem leaves are also used to decorate the staff. This ritual is practiced to pay honor to the Lord Brahma and Lord Vishnu, as initiated by Shivaji during his reign.
Gifts On Gudi Padwa
The day has come to wish happiness and health to your loved ones. Gudi Padwa calls for celebration and welcoming a brand new year with renewed hope. Giving gifts to the loved ones is an integral part of every Indian celebration and Gudi Padwa is no exception. Decor home with stunning bed linen is a good idea for your home and also for a gift to your loved ones. It is a tradition to buy something new on New Year's Day for the household to ensure prosperity throughout the year and home decor items are a good option for this occasion. Order now and we deliver your orders at your doorstep with free delivery.
Wishing you a vary happy Gudi padwa!!