Why Holi Celebrated?
A question always came to our mind why Holi celebrated by us? What are the reasons, philosophy, facts that came behind it, If you have some questions and want answers for that then my friend you are on the right palace?
Here I am telling you the story, factors, and reasons behind this festival. Let's begin.
what is the story behind Holi?
we always thought that Why holi celebrated? As per the mythological story, this festival marks the end of winter and a foray into spring and also celebrates the victory of good over evil. One of the most popular Holi stories we have been hearing is that of Holika, Hiranakashyap's sister who was killed by Prahlad owing to her evil intentions. It is celebrated on Phalgun Purnima which occurs around the month of March.
As per another story, it is also a festival that celebrates the eternal and divine love of Shree Radha Krishna.In the name of this divine love Holi is also celebrated as a "festival of love."
As per some facts, Holi celebrates the arrival of spring and the end of winter, so it is also called as "Festival of Spring"
In this year of 2022, the Holi will be celebrated from 18th March to 19th March. which will lie on Friday and Saturday.
Best place to play Holi
As I earlier said Holi is a festival of love. So Holi is incomplete without the joy of Mathura, Vrindavan, and Banana. In the Braj region of India, where the Shree Radha and Krishna grew up, the festival is celebrated until Rang Panchmi in commemoration of their divine love for each other. The festivities officially usher in spring, with Holi celebrated as a festival of love.
There is a symbolic legend behind the festival. In his youth, Krishna despaired whether the fair-skinned Radha would like him because of his dark skin color. His mother Yashoda, tired of his desperation, asks him to approach Radha and ask her to color his face in any color she wanted. This Radha did, and Radha and Krishna became a couple. Ever since the playful coloring of Radha and Krishna's faces has been commemorated as Holi.
Holi celebration in Vrindavan and Barsana
Holi is not confined to a single day in Vrindavan Barsana but is celebrated across a period of more than a week. There are various events being celebrated in various places.
The festival of Holi formally starts with the people of Nandgaon inviting the people of Barsana for the celebrations. This is known as Phag Amantran Utsav. Laddoo Holi is played on the same day in Barsana. Bundi Laddoos of bright yellow color are thrown at each other in the temple. The entire place gets a hue of yellow.
On the next day, Lathmar Holi is played at Barsana and on the following day at Nandgaon. This is an interesting tradition and Holi celebration where the women chase the men and beat them with sticks or lathi. Hence the celebration is known as Lathmar Holi. Barsana and Nandgaon celebrate Lathmar Holi with great zeal and pomp.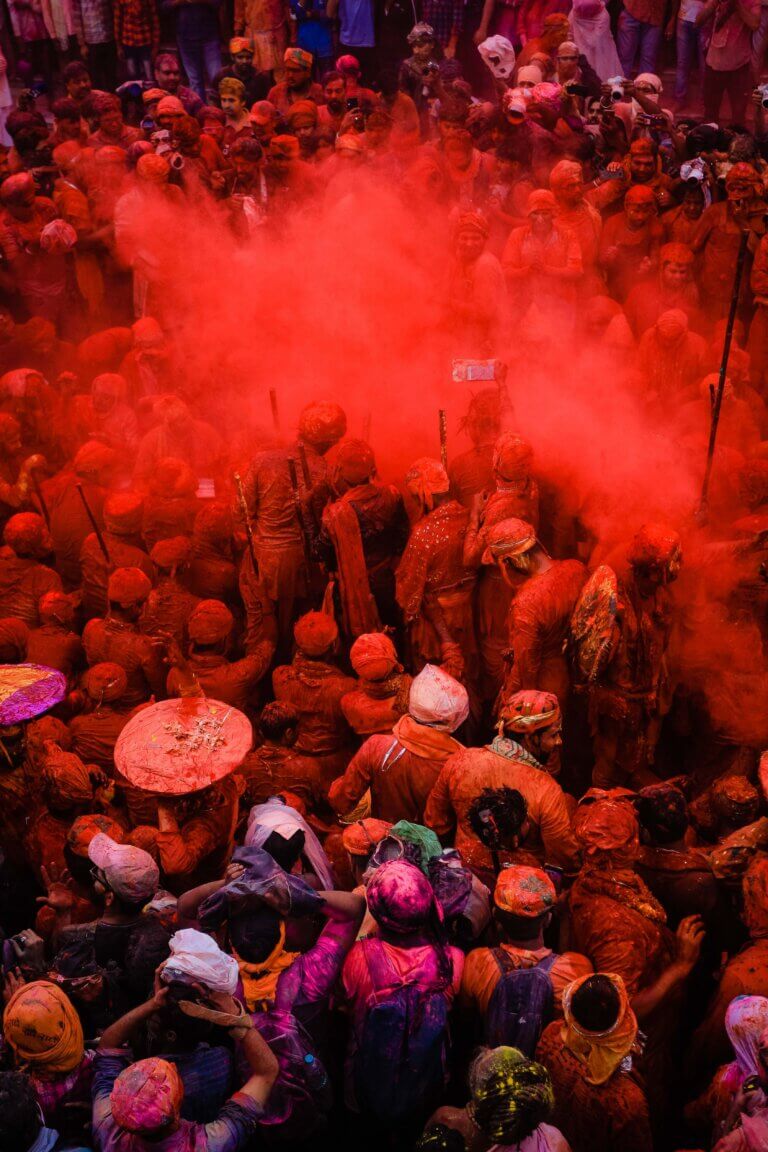 Krishna lived at Nandgaon while Radha resided at Barsana. During Holi, Krishna would visit Barsana to meet Radha. He would tease Radha and her friends a lot. This offended the Gopis and Radha so much that they would chase Krishna and his friends with lathis and beat them.
The tradition is still kept alive with men from Nandgaon visiting Barsana for Lathmar Holi. The men would wear traditional clothes with turban and carry a shield with them. They would pay their tribute at the Radha Rani Temple and then gather in the streets. The ladies would then come out and beat the men with sticks on their shields. Of course, they would not want to hurt the men. There is electrifying energy all around the place during this time.
While the women hit the men with sticks, everyone is soaked in colors. Songs, dances, Bhaang Thandai are part of the celebration.
Phoolonwali Holi
Phoolonwali Holi is the celebration of Holi in Vrindavan with flowers and not any colors. Holi is celebrated with dry colors or gulaal, but it was lovely to see the celebration with flowers.
Phoolonwali Holi in Vrindavan is celebrated on the Ekadashi before Holi at the Benke Bihari temple in Vrindavan. The gates of the temple open at around 4.00 pm and the Flowers' Holi starts right after that. This one is a short one taking place for about 15 to 20 minutes. The temple priests throw flowers at the devotees from the temple.
If you have a knack for these extreme versions of celebration, Barsana is the place to be!
Why Is Holi Celebrated With Colours?
Why Holi celebrated? As said earlier Holi is the Arrival of spring and the end of the winter season which makes this festival a festival of colors. People start preparing for Holi way in advance owing to the exciting nature of the festival. Stocks of water guns and balloons, Made to order mithais and Gujiyas, special food and music arrangements, flowers, and colors (we recommend only natural colors), and travel arrangements, in case you are heading out for a special Holi (we will talk about the best Holi celebration destinations in Delhi in a while too, keep reading!). Honestly, if you have been celebrating Holi you might be well aware that there are absolutely no limits to this festival.
Decor home on the day of Holi
Holi is a festival of colors and it is incomplete without bright and colorful homes. Decorate home with colorful bedsheets, diwan sets is always a good idea which completes this festival of colors. Have a look on large range of diwan sets and bedsheets.